Wireline set cement retainer is a high quality tool for squeeze cementing. The sleeve valve is controlled from the surface by simply picking up to close and setting down to open. The valve is automatically closed when the stinger is removed from the retainer. It can also converts to a bridge plug by replacing the sliding sleeve by solid plug.
Features
Electric wireline set / Mechanical set.
Drillable
One piece slips - hardened to depth of wicker only.
Sets in any grade casing including P-110.
Metal back-up rings prevent rubber extrusion.
Temp rating 300°F.
Ratcheting lock ring holds setting force.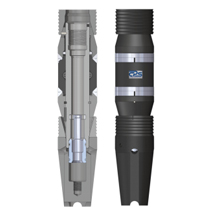 Available for casing sizes 4-1/2" - 6.0"